Star Drive Titan III Composite Screws

Now you can drive screws into nearly every type of composite decking, regardless of density, without need of a pre-drilling or dimpling function, while eliminating the unsightly mushrooming effect common to many other screws. With the Titan III, you will get excellent head-setting results, with a smaller, less obtrusive head.

Experience the best performing composite screw available today. Our new Titan III Star Drive Composite Screw design employs a unique tri-faceted thread/shaft design, barb-type rings under the head of the screw, our recognizable knurled shaft, and a specially designed thread angle - all created to reduce drive torque and pressure within the composite board normally generated by compression.

Compression problems plague most of our dual-thread-type competitors' screws. It results in board-end splitting, secondary mushrooming, blow-out, recess drive skipping and spin-out.

Complete your projects using any type of wood substrate joist materials. Get closer to the end of a board - without splitting - than ever before.




Cedar Finish

Grey Finish

Redwood Finish

Hickory Finish

Dark Brown Finish


AVAILABLE NOW

Stainless Steel

If your composite decking project is being used commercially or on-the-water, choose stainless steel for your project and maintain the Titan, Limited Lifetime Warranty against Corrosion. This heavy-duty, 300 series, stainless steel version of our standard TIII composite screw will provide the ultimate in rust resistance while delivering the same unsurpassed drive experience associated with our TIII ACQ Rated Composite Screws.

Titan III Composite Screws Available Sizes:

| | |
| --- | --- |
| Sizes | Finish |
| 6x2" | |
| 8x1-1/2" | |
| 8x2-1/2" | |
| 8x3" | |
| 10x2-1/2" | |

CLOSEOUT - Sale Priced - Star Drive Original Round-Shaft Composite Screws

| | |
| --- | --- |
| • | Drive Splitstop star drive composite screws into most low to medium density composite decking materials without need of a pre-drilling function. |
| • | Eliminate the unsightly mushrooming affect common to many other screws when installed in composite decking - at a value price. |
| • | Realize good head-setting results in projects using southern yellow pine joist materials. |

(When installing Titan's Original Round-Shaft Composite Screw in higher density composite boards or substrate materials other than southern yellow pine, we recommend the use of a "dimpling" step prior to screw installation.)

While Supplies Last




| | |
| --- | --- |
| | Cedar Finish |
| | Grey Finish |
| | Redwood Finish |

Original Round-Shaft Composite Screws Available Sizes:
Designed to perform hidden, "toe-screw", angled, installation of deck screws, at deck-board edges, with or without the use of a special tunnel-jig* apparatus.
*Not Included - Sold by Others Like, Camo, Kreg, etc.
"Star Drive" T15 Bit Required - Sold Separately

Fascia Screw Installation System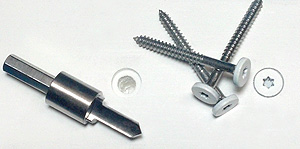 SplitStop Fascia Screws (#8 x 1 3/4)
Stainless Steel Head-Painted Screws for the installation of Composite Fascia materials specially designed to mount the Fascia in a manner that will prevent, buckling, "oil-canning" and broken screws.
Requires Use of a SplitStop Fascia Bit - Sold Separately


65 screws - Will Install 60 Lineal Feet of Fascia
| | |
| --- | --- |
| • | Use the SplitStop Fascia Bit to create an oversized hole and head recess countersink in your fascia material, at the appropriate locations. |
| • | Use a drill/driver with torsion adjustment settings to drive the screws. Set the torsion adjustment to stall when fascia screws is flush with the surface. Drive a SplitStop fascia screw into the hole created by the fascia bit. Do NOT overdrive screw. |
| • | Place a screw at the upper left corner of the fascia 2" from the top and continue right placing screws, 24" on center, to the end of the fascia board. Repeat this process 2" from the bottom of the fascia board, BUT start the second screw 12" right of the upper screw. This will form a baseball stitch pattern on the fascia as shown below. |
| • | Important! Do not over tighten screws. |
| | |
Cedar Finish

Grey Finish

Redwood Finish

Hickory Finish

Dark Brown Finish

White Finish